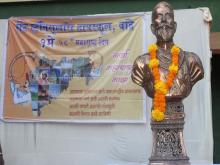 Maharashtra Day is celebrated to commemorate the formation of the state of Maharashtra after its division from Bombay State on May 1, 1960.
The celebrations started off with the hoisting of the National Flag by the Chief Guest, Mrs. Shailaja Mulay, the reciting of the Pledge and Prayer.
A skit showcasing the various leaders of Maharashtra, their works, and messages and a lezim display highlighted the energy and enthusiasm of this beautiful State.
Mrs Mulay in her speech to the students encouraged the students to read and write at least 5 sentences in Hindi and Marathi and 15 sentences in English. She told the students that they were the future of Maharashtra and to be "Persons with a class to stand above the Mass".
The Atharva Trust Dombilivi, Awards of Craft and Drawing competition at the State Level were also awarded to the winners.
The programme ended with a vote of thanks by our Vice Principal, Fr. Andrew Rodrigues s.j.