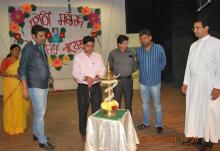 St. Stanislaus High School celebrated Marathi Day on 28th Feb. 2014. As a part of the celebration, an Inter-School Marathi Skit competition was organized in which 9 neighboring schools participated. The Chief guests for the competition were Shri. Sanjay Dattatray Mone – Actor and script writer of Marathi theatre, Shri. Vinay Yedekar – Actor and famous comedian of the Marathi Theatre and film industry and Mr. Tushar Aphale – prominent member of the MNS party.
The function began with the lighting of the lamp followed by a prayer service. The competition provided a platform for the young, budding actors of various schools. The theme for the skit competition was "PROTECTING THE ENVIRONMENT THROUGH OUR CULTURE". The theme was selected to create awareness in the minds of the students and the audience to work with commitment and pledge to protect and save our environment and also to make the world a better place to live in. All the participants took part with their heart and soul to highlight the message of building a healthy society.
The winners of this event were St. Joseph's Convent High School -1st place, Cardinal Gracias School -2nd place and the 3rd place was secured by St. Stanislaus School.