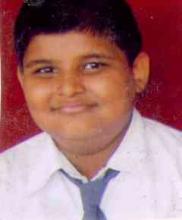 Stanislaus School bids Adieu to our young Stanislite Master Deepesh Mathure of Std. IX D.
It was rather shocking to note that our budding Stanislite is no more. He left for his heavenly abode on Friday, 19th October 2012. We bid farewell to our ever-smiling Deepesh who passed away silently and left a mark of his serene presence in the hearts and minds of the students and teachers.
The School Council sang the School Anthem as a mark of him being a part of the Stanislaus family. Fr. Jude Fernandes S.J. and Fr. Andrew Rodrigues S.J., lifted him up in prayer offering consoling words to his bereaving parents and close relatives.
Deepesh will always be remembered fondly by his fellow Stanislites. May his soul rest in peace.