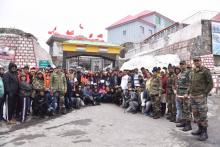 This year May 2019 the summer vacations were really thrilling and exciting for some of our students and teachers who went on a national integration tour to the north eastern Army base. Mr. Peter D'Souza a very enthusiastic ex Stanislite under the banner of the B.I.R.D committee had organised this tour. Seven schools from all over Mumbai and about hundred students were part of this project .It was a 12 day tour out of which eight days was spent with the Indian army. Students Stayed in Sevok and Bagrakot army cantonments which are a part of the North Eastern army base.
Special arrangements were made so that the students could experience the army way of life. paratrooping by professional officers, Bunker busting drills, display of Bagpiper army band, advanced obstacle course, display of various warfare machines like the bofors, visit to war memorial ,inspiring talks by Army officers who have actually fought in wars ,also by Major Deepika Rathod who has climbed the Mount Everest two times and many other exciting things are experienced by our children. We also visited the Nathula pass( the Indo China border )staying in the army camps 5 miles and 12 miles for two days at a height of 11000 meters above sea level. We visited The Tsomgo Lake, The Baba Harbhajan Mandir, The Bengal Tiger Safari, it was really thrilling experience. The motive of this tour was to give our children a close look at the army way of living and encourage them to join the Indian defence services.
Thanks to our principal Teacher Anna for giving us this wonderful opportunity to go on this tour also Sir Elias, Tr. Pramila and Tr.Bindu for accompanying the boys and not forgetting Mr. Peter D'Souza for organising such a wonderful trip.