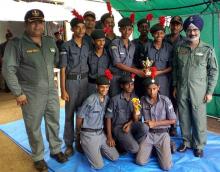 The ATC for the NCC boys of Std.IX was held at Neral from the 14th to the 23rd June 2017.
Master Owais Shaikh won first place in rifle shooting with a margin of 19 points for 5 shoots.
Master Nathan Pereira won the 1st place in the 100 mts run.
Our school won the drill (marching) competition and won a total of 16 gold medals and a silver medal for volleyball, tug-of-war and various other competitions.