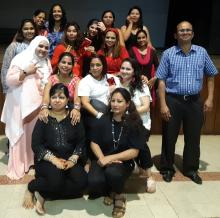 God couldn't be everywhere, so he made PARENTS. This year Parents' Day at St. Stanislaus was celebrated on 4th August in the School Auditorium. Some of our pretty moms and handsome dads participated enthusiastically in the Talent Show and displayed their varied talents through song, dance and a magic show. They had the staff and students spellbound and engaged.
After the Talent Show the parents were served some refreshments. This was followed by a game of housie interspersed with a few spot prizes. The day ended with the distribution of momentos. The parents and staff alike left that day with beautiful memories of a morning well spent.

"When I fall down you give me a hand. When I cry, you wipe my tears and comfort me to be strong. Thank you for being with me always".
The Teachers Incharge :
Ms. Lorna Bhantu
Ms. Cursina Valles
Ms. Perpetual Fernandes
Ms. Arnold Lobo.