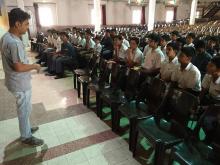 'You don't take a photograph. You make it.''Ansel Adams.
The boys of the Stanislaus Film and Media Club understood the truth in these words on Friday, 23rd February 2018 in a photography workshop conducted on the school premises. The film and media club members belonging to the 8th and 9th standard were given this wonderful opportunity to gain deeper understanding of the art of "making" photographs. Mr. Vipul Chedda from KSHITIJ WORLD conducted the workshop comprising of theory and practical components.
In the theory component, the students learnt about the various types of photography – nature, wildlife, food, architecture etc. A power point presentation educated the boys about the different kinds of cameras available to use. The most enlightening aspect of the workshop was the "Rules of composition" where students gained insight on the technical aspect of a photograph and how to enhance the subject within it. Their knowledge was also enriched with various tips on making the perfect picture and how to handle the camera appropriately.
The much awaited and most enjoyable moment of the workshop was of course the practical session. The boys were paired and given a digital camera each to put their newly gained knowledge to use. This helped them to relate their theoretical knowledge to their practical experience. It was so difficult to put down their cameras once they got clicking! The workshop concluded with a vote of thanks to Mr. Vipul Chedda and his team. The boys were inspired and excited by their great experience at the workshop.
It is said that photography is the only language that can be understood anywhere in the world. Through this wonderful workshop, they have certainly learnt a new and powerful language that will help them capture not only smiles but also souls!