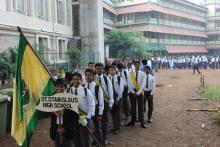 Following tradition, Stanislites walked their way to Mount Mary's Basilica on Friday, 8thDecember 2017 for a Eucharistic celebration.
This pilgrimage is held annually to commemorate the Feast of the Immaculate Conception of Mary and to follow the vow Stanislites had taken years ago, when Bandra was scourged by plague. We also celebrated the Feast of our great Jesuit Saint, Saint Francis Xavier.
Fr Malcolm Nato S.J, our new vice principal was the Main Celebrant. At the service STD X students received a special blessing for good health and strength to face life's challenges especially the forthcoming SSC examination.
At the end of the Mass the students were treated to a snack and a celebration of the Xavier House Feast in the school
The celebration in the school hall began with a prayer service.
A hymn in honour of St. Francis Xavier was sung in Konkani by the Teachers along with the boys and a movie was shown on the life of St. Francis Xavier. An entertaining dance and a skit were performed by the students.
Prizes were awarded to the best classes for their Chart displays.
The programme concluded with the singing of the School Anthem followed by a Vote of thanks by Principal Anna.