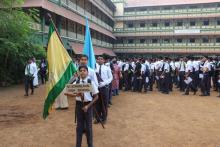 Xavier house feast was celebrated on 3rd December 2018 with great enthusiasm. STANISLITES walked their annual pilgrimage to Mount Mary Basilica to keep the vow stanislites had taken years ago. When Bandra was scourged by plague. The feast mass was celebrated by Fr. Anil Rego. The outgoing STD X boys were blessed with special prayer for their board exam by Bishop John Rodgriuges.
The celebration in the school hall began with a short introduction on the life of St. Francis Xavier followed by a skit programme themed 'Character in Excellence'. Prizes were awarded to the best skit from the junior and senior section.
The programme ended with the signing of School anthem followed by a vote of thanks by Principal Mrs. Anna Correa.