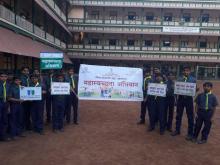 On 12th January, 2019 the seventh standard Nature Club and Scouts boys along with the Nature Club teachers participated in the Mahaswachh Bharat Abhiyan with a Prabhat Pheri from Bandra bazaar road to Jain Mandir.
The students assembled on the school ground at 7:20 am sharp and classwise marched towards the bazaar road to display the consequences of having an unclean society. Students prepared colourful charts and placards with slogan and messages highlighting the importance of a safe and clean environment.
It was an enriching walk that strived to save nature and future. This step taken by stanislites hoped to enlighten the mind of both young and old, and make our land a better place to live in.