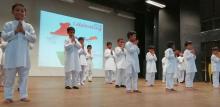 The Appreciation Day, held on the 8th of August, 2015, was an occasion to acknowledge the achievement of our students who have attained excellence in academic and co-curricular spheres through their dedicated efforts and perseverance in the academic year 2014-15.
The programme was held in the school hall. This being the International Year of Light, the theme chosen was, 'Spread Your Light'. Our guests, Fr. Errol Fernandes, Principal Ms. Anna Correa, Vice Principal Fr. Andrew Rodrigues, Ms. Lillian Braganza, Ms. Asha D'Mello, the Primary Headmistress Ms. Jennifer Pereira and parents, were welcomed by our little Stanislites.
The programme began with a prayer followed by a prayer dance performed by the students of std. III.
Fr. Errol Fernandes and Ms. Anna Correa were then called upon to give away the certificates to the students of std. III.
We were then entertained through music by the students of std. II who sang the song, 'Go Light Your World.'
This was followed by the students of std. II receiving certificates from Ms. Lillian Braganza and Ms. Asha D'Mello. The students of std. IV then conveyed the message of spreading light wherever we go through the skit 'The Lonely Traffic Light', which everyone enjoyed.
The students of std. I and IV were then excited to receive their certificates from Ms. Judith D' Abreo, Fr. Andrew Rodrigues and Ms. Jennifer Pereira.
Ms. Anna Correa then addressed the parents and students. She appreciated them for their hard work and encouraged them to continue to do their best in this academic year as well.
The vote of thanks was given by Ms. Jennifer Pereira. She thanked everyone who helped to make this programme a success. The programme ended with the singing of the school anthem.
-Tr. Priya Divecha, Mst. Arnold Lobo, Tr. Michelle Ferrao, Tr. Malaika Rodrigues
'A dream becomes a goal when action is taken towards its achievement.'