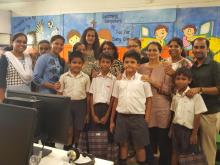 The Raffle Contest for September 2015 was organized so as to encourage Student login and to familiarise Students/Parents with KoolKampus.
Any child or parent logging into KoolKampus in the month of September was eligible for the raffle. A random user was selected per division as the winner. If the randomly selected user was a Parent, the corresponding child would be the winner.
The winners for September 2015 are:
Std 4A - Sahil Keni
Std 4B - Dhir Pereira
Std 4C - Jenson Silveira
Std 4D - Mohd. Ebrahim Shaikh
Congratulations to all the winners and a Big Thanks to all of you who logged in. Any suggestions email us on support@koolkampus.co.in.
The Raffle Contest will also run for the month of October 2015!
The more number of times you login, the higher the probability of winning.