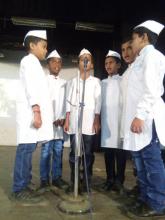 To celebrate the 68th Republic Day the subject teachers and the boys of the Primary Section put up a programme on 25th January, 2017 in the school hall.
The programme began with a speech and prayer service asking God to protect our nation and its people. This was followed by a Marathi patriotic song by the boys of Std III showing their love for our country. Some children dressed in Indian attire and shared information on many of our National symbols.
A few boys also performed an action song 'Nana Munna Rahi Hoo' creating a patriotic atmosphere among the audience. This was followed by taking an oath on the importance of voting and encouraging the parents to vote in the upcoming election.
The programme ended with a vote of thanks by our Head Mistresses Tr. Jennifer and finally the singing of our National Anthem.