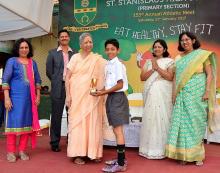 Health and fitness are two sides of the same coin, both are very necessary to live a healthy and happy life, Without proper health and fitness one cannot have a feeling of physical, mental and social well being. Keeping this in mind the theme of our sports Day was "EAT HEALTHY AND STAY FIT". The much awaited Sports Day was held on 21st Jan 2017 on the school ground.
The meet began at 9:00am. The fantastic turnout from the parents and the pleasant weather were the perfect boost for the students on the sports day. Our Chief Guests for the day were. Mr. Anand Jayswal and Mrs. Aruta Jayswal the proud parents of Arjun Jayswal (student of Std 4) . The boys of Std 3 in the guard of honour welcomed the Chief guests, Manager Fr. Frazer Mascarenhas, Principal Mrs. Anna Correa, Vice Principal Fr. Andrew Rodrigues and Primary Head Mistress Mrs. Jennifer Pereira. Tr. Lorna Bhantu introduced the chief guest .
This was followed by the March Past by the boys of Grade 4. The sportsmen prayer was said by Master Arjun Jayswal and the oath was taken by Master Shaun D'mello. The students solemly pledged to uphold the spirit of the sportsmanship. The Chief Guest Mr. Anand Jayswal then declared the meet open. Once the races began the air was filled with cheering and tons of encouragement for our little Stanislities. The flat races, relays and fancy races were all centred on the Theme for this year "Eat healthy, stay fit". Some of the fancy races were "Circle of Good Health", 'Mickey on the Milky Way, "Physical activity beats gadgets", 'Celebrating health and many more . After each race, the winners were awarded a medal and a certificate.
The sports day culminated with a beautiful drill display put up by the boys of Std 4 trained by Master Sagar Parab.Mr Anand Jayswal encouraged our students with his speech in which he congratulated the winners and gave out the message that in sports there is never a loser, One either wins or learns through his experience. Tr. Jennifer Pereira then gave the vote of thanks. The meet ended with the School Anthem. At the end of the sports day the children went back with this message "Healthy food and fitness are essential for a healthy living".