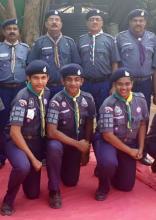 "A Scout Smiles and Whistles under all Circumstances "- Lord Baden Powell
These words ring so true as my Fellow Students Mathew Lobo, Dwayne Braganza, and myself Kris Corriea, qualified for the Rajyapuraskar (Governor's) ScoutTesting Camp for the first time in the history of St. Stanislaus high school.This testing Camp was conducted just a fortnight before the SSC Board Exams, the four day three night Camp was held at West Mumbai Suburb District ground at Juhu, Mumbai.
We successfully completed the exam as we had lot of camping experience, as we had attended school scout camps, district activities such as camporee, thinking day, etc.
We thank our principal, Tr. Anna Correa and the Jesuit management for giving us the opportunity and support to excel in scouting.