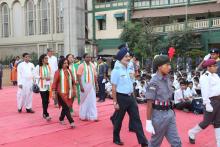 The Staff and Students of St. Stanislaus High School celebrated the 68th Republic Day on 26th January 2017 on the school ground.
Grp. Capt P. Bakshi, a Fighter Pilot in the Air Force, presently working as a Group Commander in Mumbai-B group was the Chief Guest.
The programme commenced with the hoisting of the flag followed by the National Anthem and Pledge.
The parade by the NCC, RSP and Scouts boys, Cultural Program programme and karate display, made this a truly unforgettable day.
The Chief Guest said a few words expressing his thoughts followed by the vote of thanks by our Vice-Principal, Fr. Andrew Rodrigues s.j..