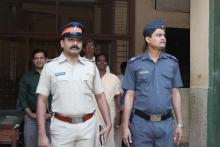 26TH January is one of the most important days in Indian history. It is celebrated as the Republic day of India because on this day the Constitution of India came into force and India became a totally Republic Unit.
On the 26th of January the boys of St.Stanislaus High School celebrated Republic Day with great patriotism and pride. The boys assembled on the school grounds at 7:30 a.m. to welcome the chief guest Mr. Pramod Kumbhar, Assistant Police inspector of Mumbai Police in the Anti – Narcotic Cell.
The NCC boys proudly escorted the chief guest along with Vice Principal Fr. Malcolm to the stage. The program began with the chief guest unfurling the Indian Tricolour Flag with the assistance of Sir Rostan. This was followed by the National Anthem. Master Romeo Koli then recited the pledge after which Master Akaash Ranade enlightened all of us with his motivating and patriotic speech. The primary boys then set the stage on fire with their energetic performance which highlighted Unity in Diversity. The dance was followed by the secondary boys who awakened the patriotic spirit in everyone with their performance 'Suno Duniya Gaur Se Walo'. Items concluded with the secondary boys who performed a very heartening, meaningful skit. Karate a sport for self defense taught in our school was showcased by the boys of STD 5 and 6.
The chief guest was then invited on the stage to share with the boys his knowledge in the field of defense. The vote of thanks was given by our Vice Principal Fr. Malcolm and the program ended with the school anthem.
By Krish Pinto