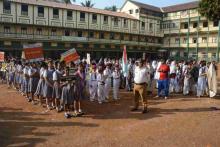 Stanislites and students of 13 neighbouring schools were privileged to have amidst them Dr Bhushan Kumar Upadhyay Jt. Commissioner of Police (Traffic) and Mr. Pradeep Chavan Sr. Police Inspector (Traffic), Bandra.
The students of the neighbouring schools gathered at St. Stanislaus School and walked down Hill Road with banners and placards spreading the message of Road Safety to all citizens.
They then assembled in the Stanislaus School hall to be addressed by Dr. B.K. Upadhyay. He held their interest by narrating a story and bringing out the message of using the timely action. Different topics like drunken driving, overtaking, speeding, carelessness, reckless driving were touched upon. He quoted that most of the accidents caused were in the age group of 16-25 years. Approximately 565 drunken drivers were rounded up on the eve of New Year 2015. Can we avoid this behaviour?
There was active student exchange with him. They expressed their fears and their needs for police intervention in solving their road safety uncertainties.
Dr. Upadhyay had to leave because of his other commitment but the students were engrossed in watching the Video clip on Most dangerous road accidents in India caught by live CCTV. Mrs. Sunita Nashikkar, Sr. Police Inspector ( Education) conveyed tips on how to cross the road safely, how somebody's fault could be the cause of danger to the pedestrian's life. Mr. Vichare made it known to the students how their good deeds bring laurel to themselves first and then to the city they belong to.
Mr. Pradeep Chavan Sr. Police Inspector (Traffic), Bandra was ever willing to have the School Physical Training teachers to be trained at their Byculla Institute or he would depute his Staff to go to schools and train their teachers and students.
Our sincere thanks to Holy Family Hospital for providing us with the ambulance and medical service.
The whole session concluded on a motivating and inspiring note.