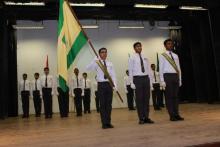 The installation ceremony was held on 01st February 2019. The newly elected school council members were bestowed with Sashes and Badges by the Principal Tr Anna Correa and Rev Fr Malcolm.
The newly elected school council members are as follows –
School Captain Aaiyaan Chataiwala
Assistant School Captain Glen D'Mello
Britto House
Captain Ayush Sajit
Assistant Captain Aaron D'costa
Loyola House
Captain Devansh Thakkar
Assistant Captain Kyle Coutinho
Xavier House
Captain Tanish Jain
Assistant Captain Branch Matthew
Kostka House
Captain Ayman Mithal
Assistant Captain Heet Mehta
Sports Captain Kyle Justin
Assistant Sports Captain Aaron Joseph
Leaders
Head Leader Myron Pesso
Assistant Head Leader Zidane Sayyed
Assistant Head Leader Durwin Britto
Best wishes to the school council for the year 2019 – 2020.