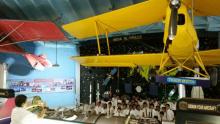 The Science Club students from Std 5-9 visited the Nehru Science Centre on Tuesday 23rd August 2016 accompanied by Tr. Sadaf & Tr. Deepali.
The boys were thrilled to see the various fields of science and technology.
The evolution of man was seen through POP (Plaster of Paris) images which looked real, including the stones of various eras.
They were excited to handle working models of aero-science using turbo jet engines.
At the light and sound show , the Stanislites were amazed to see the wonders of radium against the dark wall. The space and astrological studies were very informative. The students experienced the joy of entering the human heart and observing the human analogy was a true way of experiencing the pulse.