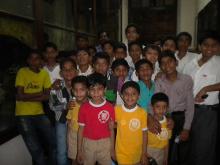 As part of the Jesuit Certificate Programme (JCP), the boys of Std. VIII were given an opportunity to play host and take home another student for a night's stay.
These boys hailed from a village called Asangaon in Maharashtra and were apprehensive of coming to Mumbai. To them Mumbai and Mumbaikars were scary, violent, rich and uncaring. But their interaction with the JCP boys allayed their fears and they enjoyed the hospitality of the homes that lodged them.
They arrived on Friday, 2nd March 2012 morning and our boys went to receive them at the CST station with a welcome sweet and snacks not forgetting the water and the coffee. They were then shown around Mumbai. They visited our Jesuit school St. Xaviers, later the Gateway of India, a show at the Nehru Planetarium, a sumptuous meal at a restaurant in Tardeo and back to Stanislaus School. Here they played a game of football. Later they visited the Basilica of Mount Mary and walked down the bandstand promenade. Each JCP student took one student home for the night.
The following morning began with an assembly in the School Hall wherein their humorous skit depicted life in the rural areas and our students portrayed the colours of friendship.
They were then exposed to an intellectual and personal skill development programme till lunch time. A meal followed and each child was presented with a gift.
This CEP was surely an enriching experience for our students.