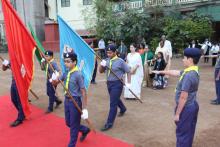 On 26th January 2019, St. Stanislaus High School celebrated its 70th Republic Day in a glorious manner. This day is important to every Indian as it was on this day that our constitution came into effect.
We were honoured to have a very important person in our midst on this day as our Chief Guest Lt. Col Stephen D'costa along with his beautiful family graced this occasion with his presence. The programme began with welcoming our Chief Guest in a grand gesture by the NCC, Scouts and RSP boys marching to the rhythm of our school band. Our Britto house captain Master Aaiyaan Chataiwala took the Indian pledge. An inspiring patriotic speech was then given by Master Ayush Tiwari of class 7D. This enlightened the spirit of Republic Day. Our energetic boys performed a thought provoking street play on 'The Fundamental Rights of India'. Our dance troop came next with their power pact performance dancing away on patriotic theme. We also had a Karate display done by our young stanislites.
Lastly the programme would be incomplete without the address of our Guest to our boys. He shared the stories of this life that inspired him to join the Indian Army. The success of the programme would not be possible without the efforts of the teachers in republic day committee. Therefore this team with the spirit of patriotism stands at the pinnacle of glory at last.