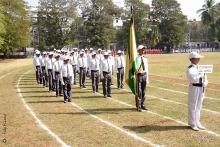 For the second consecutive year the St Stanislaus Athletic Team brought laurels to the school by winning the prestigious TATA Challenge & Ahmed Sailor Challenge Shields , having secured the highest points(65 points) in the 'Boys School' category for all divisions during the MSSA inter school athletic meet held at the Bombay University Stadium from the 15-18 December 2011.The March Past Team too, who were well turned out competed for the very first time and eventually finished with an excellent display of their marching skills on the final day, however they lost out to the prevailing champions of Anjuman -I -Islam High School.
Our Principal Fr Jude Fernandes S.J., who was present at this Meet was accorded the privilege of handing out some prizes which also included our boys, he was also thanked by the MSSA management for hosting the Inter School Hockey Tournament and the use of the Donnelly Gym Ground.
It was a proud moment for all Stanislites present when the team along with their coach Mr. Christopher Alvares and Fr. Jude Fernandes stepped forward to receive the TATA Challenge Shield from the Chief Guest.