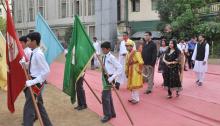 This ceremonious event was highlighted with the presence of the Maratha Light Infantry Piped Band (Military Band) that came in from Pune in full valor.
Present as Chief Guest was Dr. Girish Oak (Marathi Theatre artist and actor) and Guest of Honour Ms. Sanjivani Bhelande (playback singer). Dr. Oak in his speech, praised the students for displaying their efforts in speaking the Marathi language even though we are an English Medium School. Many pronunciations sounded new to him. We need to move ahead boldly and the first step has already been taken. Ms. Bhelande displayed her rich voice by singing a few songs for the audience in Marathi. She mentioned that Marathi culture is simple and rich and needs to be lived with a simple lifestyle.
The School displayed a rich Maharashtrian culture through its display with Lezim, Powada based on Chhatrapati Shivaji. There was a short dialogue between Lokmanya Tilak and Veer Savarkar in Marathi fitting for the occasion.
The Souvenir was released by the Chief Guest Dr. Oak and Ms. Bhelande.
The presence of many parents made this celebration eventful.