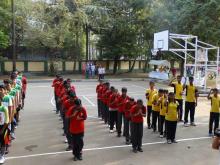 St Stanislaus for the third consecutive year hosted the Inter-school Basketball Tournament on its grounds beginning 20th April 2015 to Wednesday, 22nd April 2015 with 44 teams participating in the U-11, U-14 & U16 category, Boys and Girls. This game has provided a platform to schools from Bandra to Malad and beyond, both Central and Western, bonding them in spirit of equality and team play.
Fr. Jude Fernandes the Principal of the School firmly believes every child is a star and encourages them to explore their potentials through sport and other cultural activities alongside education.
The inaugural ceremony began with the National Anthem jointly sung and narrated through action by the Hearing Impaired Children.
Fr. Jude Fernandes was the Chief Guest flanked by Fr. Errol Fernandes, Fr. Andrew Rodrigues, Sports Director-Mr. Hycinth Cardoz, Tr. Freda DeSouza and Sports Captain and National Champ in Malkhamb – Master Gerard Quadras.
Participating once again in this Tournament are the SPECIAL Schools – Disha Karnabadhir Vidyalay and Mookdhwani Vidyalay. In the Opening Match the Girls showcased their talent in true spirit and grit.
The momentum in the first half belonged to Disha Karnabadhir Vidyalay but they were outplayed in the second half and the Match was won by Mookdhwani Vidyalay.
Similarly the boys from the Special Schools played a tough match with each other with Mookdhwani again winning. This boys winning team will now go on to the mainstream games competing with other schools. It is truly said "You must see to believe. There's a lot to learn from these children as they struggle and triumph with the most basic requirements like balance, peripheral vision, coordination verbal and physical".
The host team U-16 Boys played a scintillating match against P.G. Garodia High School. They were leading with points till the second quarter. The third quarter saw P. G. Garodia School, take the lead and ultimately win the match with a small margin.
The semi-finals will be played on Wednesday, 22nd April 2015 morning.
Mr. Govind Krishnan Secretary of the Maharashtra Basketball Association has agreed to preside over the Awards ceremony on Wednesday 22nd April, at 3.30 in the afternoon.