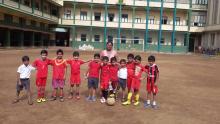 Started with a 'KICK'.....Interclass Football Tournament for Std III and IV.
Stanislites are not only known for their excellence in academics but also for achieving their goal in sports. Thus, we began this academic year 2015 – 2016 with an 'INTERCLASS FOOTBALL TOURNAMENT' of the 3rd and the 4th Standard.
The matches started from the 8th of July till the 15th of July. Mr. Cecil Correia was the referee for all the matches. The boys were very enthusiastic, determined, excited and played with 'TEAM SPIRIT'. The boys played the matches with the belief that winning or losing is just a part of the game, but PARTICIPATING is what matters. The boys who did not participate in the game did the most fantastic job of CHEERING for their class.
With this spirit of sportsmanship and participation, the boys of class III D and IV B won the 'FINAL MATCH'.