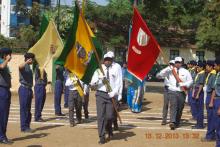 St. Stanislaus School had its 150th Annual Athletic Meet on Saturday, 14th December 2013 at 1:30 p.m. on the School Grounds. As tradition goes, we had the parents of the School's Sports Captain Master Sam Fernandes as our Chief Guest. Parents of the Assistant School Sports Captain Master Kevin Barnes was the Guest of Honour.
The MarchPast by the Xavier, Loyola, Kostka and Britto Houses and the NCC have always been the pride of a Sports meet. So is the hoisting of the School flag by the Chief Guest Mr. John Fernandes and the Sportsman's Oath taken by the Sports Captain.
The MarchPast trophy was bagged by Xavier House. The Xavier House also secured the Kostka Cup for the Winning House.
The Sports Meet ended with the Chief Guest declaring it closed.