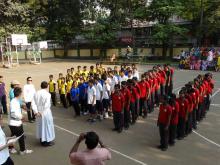 St. Stanislaus School hosted the Inter-school basketball tournament on its school grounds for the second consecutive year.
The tournament began on Monday, 14th April 2014 and concluded on Wednesday, 16th 2014. The Chief Guest at this meet was Mr. Esmero Figueiredo a legend of the Basketball fraternity. There was a special match organized for the three hearing impaired school children. This was the highlight of this event.
32 teams participated in the U-11, U-14 and U-16 category.
Mrs. Devangi Dalal, the Guest of Honour is the Humanitarian Award Winner from the American Academy of Hearing Impairment.
All teams played zealously, vying for the trophies. In the Girls U-14 category, Billabong High, Malad won. In the Girls U-16 category, Billabong High Malad girls bagged the 1st place.
In the Boys U-14 category, St. Stanislaus High School bagged the 1st prize and in the Boys U-16 category, Billabong High School, Thane bagged the 1st prize and the Runner Up was Stanislaus boys.
The players displayed a lot of skill and team spirit and Stanislaus School is proud of hosting it and carrying on the trend.