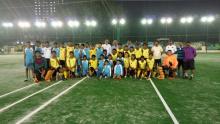 Founded in 1863, St Stanislaus High School has risen to become one of the leading educational institutions in Mumbai. Not only are they leading in academic standards but also in the sports sector. St. Stanislaus has produced many international hockey stars. And to take this legacy ahead and provide the students with world class facilities, the School inaugurated the St. Stanislaus Sports Complex, which boasts an International Standard FIH approved Edelgrass hockey turf and a portable 200 m synthetic athletic track, with a prayer for God's blessings!
Speaking on the occasion, Father Frazer said, "Our students have the same potential that the earlier international players from St. Stanislaus displayed. They therefore deserve the best international infrastructure, which we are pleased to say, Astro Sports has achieved."
"No School can afford to rest on its laurels and by the addition of this world class Astroturf to our sports facilities, I am sure St. Stanislaus High School will reach even greater heights in its sporting achievements", declares Principal Anna Correa.
The school organised an inter school exhibition tournament for School Girls and School Boys from Bandra. Noted schools like Duruelo Convent High School, St Joseph's High School, Mount Mary Convent High School, St. Stanislaus High School, St Andrew's High School, St Teresa's High School and St Aloysius High School sent their students to participate in the tournament. These Under – 14 children were seen enjoying the new facility by playing hockey on 4 different pitches simultaneously.
An Under – 16 exhibition match was also played between Don Bosco High School, Matunga and St. Stanislaus High School, Bandra. The Jesuit Management had appointed a special selection committee which had noted dignitaries like Mr. Joaquim Carvalho, Olympian and Arjuna Awardee, along with Mr. Viren Rasquinha and Marcellus Gomes – both renowned international hockey players, and it was their expertise which helped to get the setup done along with the technical expertise of "Astro Sports Pvt Ltd"
Later, a friendly exhibition match was organised between Ex – Hockey stars where Viren Rasquinha, Dhanraj Pillai, Marcellus Gomes, Adrian D'Souza, Rahul Singh, Devindar Walmiki, Edgar Mascarenhas and Rajat Sharma played to support and encourage our youth to participate and excel in sports!
Mervyn Fernandes, Gurbax Singh Grewal and Dr. Vece Paes also attended the launch event.
Synthetic grass (Edelgrass Turf) enables players to practice in the four months of the monsoon too and it also reduces the chances of injury. Another hockey great, Dhanraj Pillai, felt that ``a great beginning has been made''.
``The thickness of the turf at MHA is 12 mm whereas the turf at St. Stanislaus High school is ....... mm thick,'' said Jigar, Pratik & Nikhil, representatives from Astro Sports Pvt. Ltd. who helped the school set up the Sports Complex. According to them, the turf at St. Stanislaus School was laid keeping in mind that this turf can also be used for other sports like football, cricket etc which would be a good option for the entire community to come and play together resulting in enhancing their skills in various sports. In the second phase, we will also be installing a state of the art basketball court which can be also be used for futsal and other sports.
Spread across 38,250 square feet, this hockey turf is designed as per international standards suited for the children and residents residing at Bandra and around Mumbai. Through this ambitious project, St. Stanislaus Sports Complex, looks to cater to the hockey, basketball, cricket and football enthusiasts of Mumbai at large, from the age of 5 and above.
'We strive to set higher standards and quality, time and again, so that you get the best experience and don't have to settle for anything less,' say Jigar Doshi, Nikhil Sachdev & Pratik Doshi from Astro Sports. Pvt. Ltd.".
Welcome to St. Stanislaus Sports Complex.

Mumbai - December 10, 2017