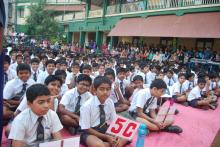 As we continue celebrating 150 years and beyond, celebrations continue……………..We want to make every Stanislite a "Man for Others" that is our endeavour. We would also want all other schools in Bandra to join us and create a "Man for Others". A new world that is "others" centered and selfless.
On Friday, 22nd November 2013 we were proud to launch the Special Postal Cover. This cover has been specially designed with the attractive, heritage structure of St. Stanislaus School and pictorial postmarks; a desirable collector's item and a novel gift. An item worth possessing and adding to your philatelic collection. Limited covers for sale priced at `150/-each.
The audience comprised of the Staff members, students, Alumni, Well wishers and parents. The Chief Guest at this event was Fr. Francis de Melo, Director, Xavier's Institute of Engineering & St. Xavier's Technical Institute, Mahim, ex- Provincial of the Jesuits (Society of Jesus), Bombay Province and Post Master General of Mumbai Mr. H. C. Agrawal handling mail and postal operations in Mumbai. He also held the post of Director, Mumbai GPO, which is the country's largest post office.
Fr. Francis in his speech highlighted the importance of dedication and perseverance required in all fields in order to achieve excellence. He mentioned that greatness can be achieved only through concentrated efforts. Marcellus Gomes, Leo Pinto stalwarts in their field of sport are shining examples of these virtues.
Mr. Harish Agrawal considered his presence at the release of the Special Cover with Special Cancellation a privilege. He stated that the Department of Posts commemorated special events through the issue of Special Covers with Special Cancellation. This endeavour depicts India's rich cultural heritage, natural diversity and history.
We also celebrated the feast of St. Stanislaus Kostka and Children's Day with a cultural programme. The speeches by the Guests of Honour lent solemnity to this occasion.
The young music group 'Live Jam' shared their talent with anti-addiction themes and live music.
The function concluded on an ecstatic note.