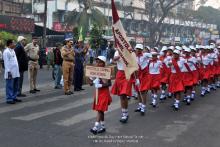 The morning of 26th January 2013 saw 17 schools march to the beat of the many school bands on Hill Road commencing from Bandra Police Station to St. Stanislaus School. Other marchers included the Rapid Action Force (RAF) and the Police squad. The theme of the event being –'HAND IN HAND …….Together We Can'
This parade was flagged off with a cycle-through by selected students around 60, specially trained by Mr. Faisal Thakur a Management graduate and a professional cyclist, to spread the message of an eco-friendly environment.
Student's parents spread the message of Secular Nationalism by lining the roads, waving the National flag and cheering the marchers.
The Chief Guest Brig R. S. Grewal- Deputy Director General, NCC, Maharashtra, took the salute on a specially constructed dais opposite latest 'Godrej's –Natures Basket' along the march-past route.
The Guest of Honour was Señor Domingo Manso the Spanish Consul General since the Jesuit Spanish priests have contributed so much towards St. Stanislaus' development through the years. An exchange of flags took place to strengthen the bond between the two countries. There were other dignitaries too.
This event provided a platform for us to take a pledge for the protection of women by our M.P. Madame Priya Dutt.
Three short cultural events – Lezim, Bharatnatyam and Malkhamb were presented by the schools to showcase India.
All this would not have been possible if it were not for our civic authorities which included the local Municipal office, Police, BEST, School coordinators, PTA, traffic volunteers and other officials, not forgetting the support from the Principal Staff and students of St. Andrew's School, working closely with each other.