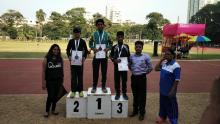 Boys from our school had taken part in the 125th MSSA Inter-School Athletic Meet held at University Grounds at Marine lines between 23-25 November 2018.
Below are the Achievements:
1.Arjun Won Gold Medal in 100 and 200 meters respectively resulting in him winning the Under 12 Junior Championship.
2.Under 12 Relay Team won GOLD in the 4*100 meters relay.
TEAM:
Arjun Jayswal
Vihaan Sylva
Ashton D'Souza
Sankalp More
3.Under 10 Relay Team won SILVER in the 4*100 meters relay.
TEAM:
Mark D'mello
Shaun Rodrigues
Jordan Desmond
Jaden Sequeira
Our School also won the Ahmed Sailor trophy for the overall highest points in the Under 8 , Under 10 and Under 12 Category