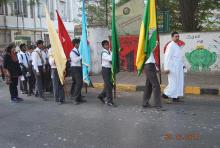 St Stanislaus School this year, as tradition calls for, had the Stanislites walk up to the Mount in prayer and singing of Marathi / Hindi bhajans. This pilgrimage is held every year as a devotion to Mother Mary who spared the hostelites from plague years ago.
The Eucharistic celebration with Fr. Keith D'souza as the Main celebrant had a message of (ICC) Integrity, Courage and Creativity spelt out to the Stanislites and the parents who attended this Mass. A special blessing entrusting Std X students to the maternal care of Our Lady before they embark on a new journey in life is given at this Mass.
Celebration of the Xavier House Feast continued with a skit on 'Character in Excellence' in the School Hall along with a PowerPoint projection on the Life of St. Francis Xavier.
Stanislites and teachers were then entertained by the 'Live Band' with melodious singing of Hindi songs sung by visually challenged students of the Divine Charitable Trust. A great source of inspiration to us!