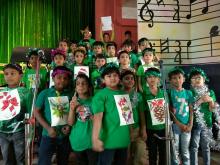 It was a beautiful morn on the 20th of December There was a frantic bustle in the hall upstairs; std. 2 teachers taking care of costumes, checking sound and lights and peons setting up chairs and props.
Our boys sat silently through the prayer service of Christmas petitions. The tableau followed which gave the kids a semblance of the actual Biblical event that is the reason for the season. However, it isn't Christmas without a Christmas tree and so our boys recited 'The Christmas Tree' while standing in a tree formation complete with ornaments in keeping with the festivity.
Two of the std. 2 students took center stage and entertained with carols, while accompanying themselves on the guitar and keyboard respectively. As a reminder of the merriment at a Christmas Dance, our boys and 'girls' skipped and pranced to 'Jingle Bell Rock', a 1950's classic. This set the tone for the entrance of the one and only fat and jolly fellow in the signature red suit: none other than Santa (our smaller version). Needless to say, he was the highlight of the show for the kids!
Our programme ended with the entire cast assembling on stage to wish our audience a Merry Christmas and a vote of thanks from our headmistress, Mrs. Jennifer Pereira. Our std. 2 teachers (Mary, Joemilla, Lisa and Malaika) were pleased that the programme went off smoothly without any glitches in spite of the time constraints.
Cheers to you, standard two!