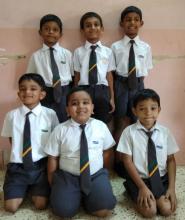 In order to foster a love for music and teach students to appreciate it, a Talent search was organized for the students of the Primary section by Tr. Lorna, Tr. Malaika, Tr. Cursina , Tr. Cordelia and Tr. Karen.
Entry forms were sent after which eliminations were held on the 27th and 28th of February owing to the large number of entries that came in. The students participated in two categories, namely, vocal and instrumental. After the eliminations a final round was held on the 6th of March to narrow down on the outstanding performances of each standard. The selected students then put up a performance in the school hall for the teachers and boys of the Primary Section on the 13th of March.
Each participant was later given a chocolate and the students who made it to the finals were given a certificate.
The performances of our students were truly out of this world. Each one better than the other making it a soulful and enjoyable morning.
"What food is to the body, music is to the soul."