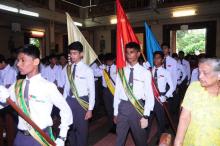 The PTA members joyfully celebrated Teacher's Day on 2nd and 3rd September 2016.
2nd September was marked with a Eucharistic celebration, where in Father Elton Namory, the main celebrant, in his homily inspired the teachers to use their God given talents to educate the young minds and to bring out the best of the child's abilities and potentials.
On 3rd September, the PTA began the celebration with a meaningful prayer service followed by an entertainment program in the school hall. Master Ojas Jhadav, School Captian hosted the program for the Secondary School teachers.
The enthusiastic and talented PTA members worked very hard to train the Primary and Secondary boys to present a lovely and lively show for their teachers.
Darryl D'Souza the VP of the PTA concluded with a vote of thanks.
A Celebration packed with music, dance and a sumptuous lunch at the Manuel Gonsalves Trust was held later in the afternoon.
The teachers sang a thank you song to show their appreciation and gratitude to the PTA members for organizing this beautiful program.