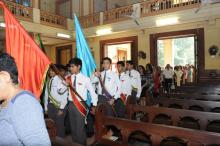 The PTA members joyfully celebrated Teacher's Day on 5th September 2017
The celebrations began with a Eucharistic celebration, where in Father Reuben Tellis, the main celebrant, in his homily inspired the teachers to educate the young minds and to bring out the best of the child's abilities and potentials.
Each class, felicitated their Class Teacher and a Subject Teacher with performances, trained and guided by the PTA Class Rep.
A celebration packed with music, dance and a sumptuous lunch at the Willingdon Catholic Gymkhana was held later in the afternoon.
Master Hycinth Cardoz and Teacher Chitra Thadani were felicitated on completing 25 years of Service in St. Stanislaus.
The teachers sang a thank you song to show their appreciation and gratitude to the PTA members for organizing this beautiful program.