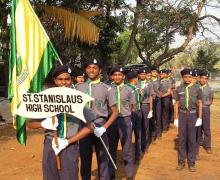 Thinking Day is celebrated on 22nd February by Scout and Guide organizations all over the world. It commemorates the birth anniversary of the scout founder Lord Baden Powell and Lady Olave Baden Powell as well. The West Bombay Suburban Bharat Scout and Guide celebrated "Thinking Day" on 22nd February at the district office in Juhu.
Our school bagged 2 prestigious trophies, Best Scouting School and 'Highest Khari Kamai'. We were the Runners Up at the District Camporee and the Scout Athletic Meet.
We would like to thank our Principal Tr.Anna Correa and the Jesuit management for their constant support. Not forgetting our Scout Masters Mr Elias Corriea , Br Conrad Fonseca, Mr Titas Fereira and Mr Rostan D'silva who trained us for marching and Lezim. Tr.Sunita trained the Scouts for the Koli Daance.
Our Scouts masters were truly the wind beneath our wings that earned success to keep our school flag soaring high.