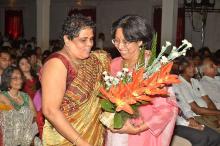 " Trust what you know
Have faith where you go
If there's n wind ---row …or go with the flow"
30th November 2011 was an eventful day as Stanislaus bid a memorable adieu to dear Tr. Liz. The farewell committee had organised a special cruise liner for the day. As 'Liz Liner' set sail on her final voyage at Stanislaus she did so in all her splendour.
The superb and creative performances were a smashing success and each group succeeded in bringing a smile, a roaring laugh & tears…..tears of happiness on Tr. Liz and everyone's face. The fast paced program ensured that each minute was action packed ! after all Tr. Liz's 35 glorious years at Stanislaus was no mean feat.
Heartfelt thanx & kudos to the Stanislaus parivar (Mgmt, Staff-Teaching / Non-teaching, Students, PTA, Ex-members of the Stanislaus family) every person who was present there for being a part of the Super Duper 'Pyar ki Kashti' and roaring it to a fantastic finale.