St. Stanislaus High School has a rich history of excellence in Sports in the last 145 years.
The school as three large grounds which include a hockey turf ground called the Donnelley Gym, named after Fr. D.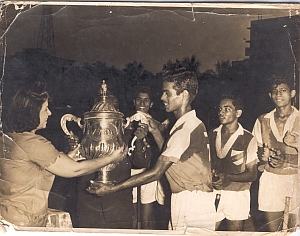 Donnelley, a prolific writer and a hockey enthusiast who gave to St. Stanislaus its first eponymous hockey turf ground which has hosted many a prestigious inter-school tournament such as the Walter D'Souza Cup and the Oliver Andrade Trophy.
Spotting talent at a tender age is their speciality and the sprawling grounds bear testimony to this. Olympians – Leo Pinto, Francis Demello, Marcellus Gomes, Joaquim Carvalho, and presently Viren Rasquinha have had their humble beginnings here. So also did Adolf Colaco, John Fernandes, Edward Aranha, National Champions, take their training here.
Our hockey team participated in the Ahmed Sailor, Agha Khan Cup, St. Andrew's League and Oliver Andrade tournaments. In football the boys are winners all the way.
Ex-students cum parents turned coach, are the wind beneath the wings of our boys. Training is given in cricket, basket ball (we have 2 basket ball courts), table tennis, badminton, volley ball, chess and swimming.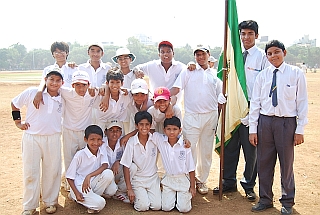 Special coaching camps are held during the long vacations. The school also as a modern gymnasium, nets for cricket and an excellent basketball court. Besides several Inter School hockey and football tournments that are conducted on the School grounds te Lawrie's !! inter school cricket tournment has been conducted by St. Stanislaus for the last two years at Shivaji Park.