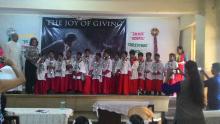 The inter – school Carol Singing Competition for the Primary Section was held on 17th December 2015 . The participants from std I to IV put forth their enthralling performance. Eleven Schools took part in this competition held at St Elias High School.
The competition was judged by very talented musicians.The occasion was graced and hosted by the esteem presence of the Principal of St Elias High School. The competitors sang a variety of Christmas songs .They came up with such melodious voices which appealed the audience and judges. All our young maestros who took part in the competition made the competition a great success. All of them sang to their level best. The winners were well appreciated by the judges. Our school stood 3rd in the competiton.
Witnessing the children singing so well made all of us proud. This event would not have been possible without the help of Ms Karen D'Abreo who trained the boys and encouraged them to bring out their best and the headmistress Ms Jennifer Pereira who accompanied them and encouraged them to do better. Also not forgetting the parents who cooperated and took the trouble of bringing the boys for regular practices.
I will sing to the Lord all the days of my life.
Perpetual Fernandes.