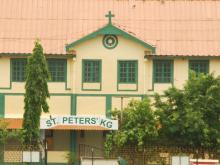 Though it was not cool, at summer time we prepared for our new school
After all the sweat and toil
Came 16th July, the long awaited special day
That eventually made its way ,
To one and all

Friday morning 16th July, around 10.30am seen a heavy downpour, however this did not cause any hindrance as our guest arrived on time inspite of the heavy rains. There was a spirit in the air, a feeling that was shared by all present – a feeling of joy, excitement ,enthusiasm and anticiaption. It was a day that marked a new beginning at St.Peters K.G.
The day commenced with the inauguration ceremony – the cutting of the ribbon that unlocked the keys for all to enter by Respected principal Fr. Jude and Fr.Juan. What a wonderful moment it was indeed , eagerly awaited by one and all. Smiles and joy filled the corridors as our main guest walked by the classrooms all creatively set up for the little children.
A few steps to climb up and there was something magical awaiting. The well done up three classrooms opened up one by one to the beat of a magical wand and to the musical tune it must be magic magic magic leading one and all to the three classrooms which opened to a big hall.

The morning began with a prayer service , to invoke God's blessing on us, our parents and our children to come. This was followed by an entertainment programme put up by the enthusiastic teachers of the junior and senior K.G.

The principal Fr.Jude in his speech focussed on the Jesuit Vision and Mission and emphasized that quality education need not be restricted only to a certain class of society but can be made available to the masses at a reasonable cost.

An important message that was highlighted and conveyed by the principal was that Change is constant and we at St.Peters need to consistently move on and BE THE CHANGE. There was a well prepared presentation that depicted the change from the Old to the new. Refreshments and mouth watering snacks were served while everyone enjoyed looking at the presentation.

Finally, the beautiful morning was summed up by a vote of thanks by the headmistress Tr.Mayrose. Everyone was in smiles and left the hall with a feeling of joy ,contentment and anticipation to a new academic year.

Indeed it was a special and memorable day for all at St.Peter's K.G.