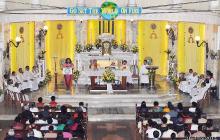 The sesquicentennial year 2012-2013, a glorious moment in the history of St. Stanislaus High School. A milestone to be celebrated and cherished for long.
31st of July, the feast of St. Ignatius of Loyola, the founder priest of the Society of Jesus, was the day earmarked for the Inaugural Launch of a series of celebratory events.
The celebrations were flagged off by the solemn high mass celebrated by his Eminence Oswald Cardinal Gracias at St. Peter's Church.
The lighting of the Inaugural Lamp signaled the onset of a series of scintillating events. The school anthem presented by the school choir and some ex-students, including celebrity singer, Shaan, added to the excitement. The Principal, Fr. Jude Fernandes, presented the Welcome Address, this was followed by the AV – 'Natus Ad Maiora" 150 years and beyond. Messages from the Chief Guest, Dr. Keki Gharda and the School Manager, Fr. Errol Fernandes, were read out by the emcee for the evening, Tr. Sanjyot Deolalikar.
The Guest of Honour for the function, Mr. Sunil Kaushal – CEO, South Asian Region, Standard Chartered and ex-student of the batch of 1981, spoke about his association with the School. The Guest of Honour unveiled the Sesquicentennial Logo and released the Commemorative Gold Coin. The School was presented with a trophy by the International Resources for Fairer Trade (IRFT) – and NGO, in recognition of being the 'First Fair Trade School' in Mumbai.
Colourful, Vibrant, Energetic & foot-tapping performances by the Primary, Secondary and ex-Students were a fitting finale to this eventful function.