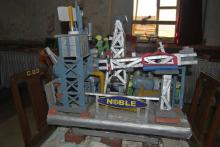 Friday, 14th March 2014 morning, witnessed an exhibition of sorts. It showcased the merits of a year long of hard work, the manifestation of our need to create and the rupture of new ideas.
We had about 800 students from different schools participate and experienced budding architects, scientists, musicians, artists, dancers, Historians, poets, writers and even shoe-makers display their talents through these projects.
The projects were on display two days prior to the Awards Day and had many parents come and view their child's project.
Ms. Donna Reen Project expert and guide has been guiding the students in their preparation of the Project topic tackling the finest of details that go in making a Project a complete one.
We thank you for your participation in this Project.