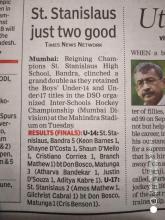 Reigning Champions St. Stanislaus High School, Bandra clinched a grand double as they retained the Boys' Under-14 and Under-17 titles in the DSO organized Inter-Schools Hockey Championship (Mumbai Division).
In a tense and exciting Under-14 final, St. Stanislaus got the better of Don Bosco, Matunga 5-3 via the tie-breaker, after the match finished in a goalless stalemate, at the MHAL-Mahindra Stadium, Churchgate. In the ensuing tie-breaker, the goal scorers for Stanislaus were Keon Barnes, Shayne D'Costa, Shaun D'Mello, Cristiano Corriea and Branch Mathew while Atharva Bandekar, Justin D'Souza and Aditya Kabre scored for Boscos.
In the Under-17 finals, St. Stanislaus underlined their supremacy as they pulled off a narrow 2-1 win against Don Bosco Matunga. The goal scorers for Stanislaus were Amos Mathew and Gilchrist Cabral while Cris Benson reduced the margin for Bosco. The St. Stanislaus U-14 team will now tavel to Nashik and represent Mumbai in the DSO Maharashtra State Championship, while the U-16 team participate in the Maharashtra State event to be played in Kolaphur.

Results (finals) – Boy's Under-14: St. Stanislaus, Bandra 5 (Keon Barnes 1, Shayne D'Costa 1, Shaun D'Mello 1, Cristiano Correia 1, Branch Mathew 1) beat Don Bosco, Matunga 3 (Atharva Bandekar 1, Justin D'Souza 1, Aditya Kabre 1). Boys' Under-17: St. Stanislaus, Bandra 2 (Amos Mathew 1, Gilchrist Cabral 1) beat Don Bosco, Matunga 1 (Cris Benson 1).