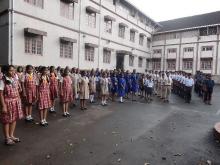 The West Mumbai Suburban District Bharat Scout and Guide Association organized a Scout and Guide Patrol Leaders Training workshop at St. Teresa's Convent School (Santacruz) on Saturday, 24th September 2011 from 8a.m. to 2p.m.
It was conducted by Mr. Leonard Gonsalves (District Chief Commissioner) of the West Mumbai Suburban District Association in co-ordination with Ms. Anita Pereira (District Training Commissioner- Guides).
Mr. Kamble (State Training Commissioner) was the Chief Guest. Sr. Perpetua (St. Teresa's Convent School) and other office bearers were in attendance. 92 Scouts and 102 Guides from 9 schools were present for this programme.
The motive of this programme was to create leadership qualities and upgrade them in the Scouting movement. Various scouting and guiding topics and activities such as History of Scouting and Guiding, tying of Knots, First Aid, Flag break, signaling, Proficiency badges etc were topics touched upon by Ms. Anita Pereira, Mr. G. Joshi (District Training Commissioner-Scouts), Mr. Elias Corriea -Asst. Dist. Scout Commissioner and Bro. Conrad Fonseca S.J. –(St. Stanislaus School). Focus was laid on the leadership. The attendants were inspired into preparing their respective School Scouts and Guides for the Rajya Puraskar and the Rashtrapati Puraskar.
This programme concluded enriching the Scouts and Guides and left them with a zeal and passion to move ahead putting the motto "Be Prepared" in your daily life. The mantra of this session was to go home with a message of doing a good turn daily to make the world a better place to live in. The workshop concluded with Participation certificates being handed out by the Chief Guest.
MR.ELIAS S.CORRIEA
Asst. District Scout Commissioner ( West Mumbai Suburban District Association) )