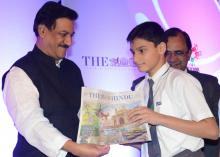 24 Stanislites along with some Staff and PTA members witnessed the launch of the 'THE HINDU in School' edition, Mumbai at the Rangswar, Yashwantrao Chavan Pratishtan Mumbai on Thursday, 8th August 2013.
THE HINDU in School edition guarantees accuracy and balanced news as strongly expressed by the editor Mr. Siddharth Varadarajan.
The Chief Guest at this launch was the Hon'ble Chief Minister of Maharashtra- Shri Prithviraj Chavan.
Master Pushkaraj Ghorpade was privileged to be one among the four students to receive the launched edition from the Chief Guest.
On this occasion, the Chief Guest spoke about "knowledge resources" which could be promoted by quality education. This challenge was forwarded to THE HINDU in SCHOOL edition, Mumbai.